Dear dancers, our gates are closed until further notice due to the current health situation.
Please stay home, take care and we hopefully see you sooner than later. <3
Lost Minute x TECHNODUB SEANCE
SCSI-9 / PRO-TEZ / MAYAK - RU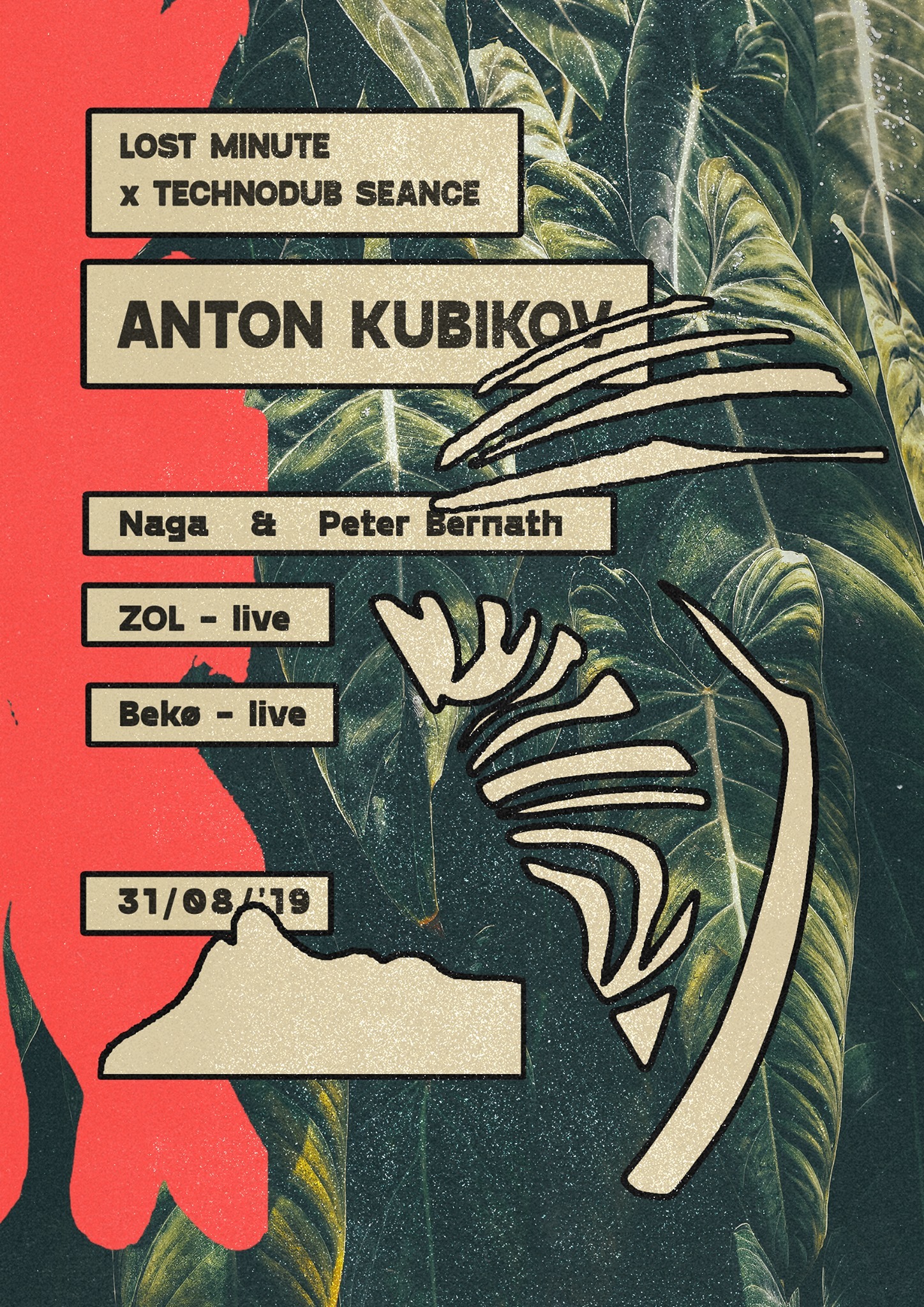 Anton Kubikov [SCSI-9 / PRO-TEZ / MAYAK - RU]
DJ Naga [Lost Minute / House2House]
Peter Bernath [Lost Minute / RTS.FM Budapest]
ZOL - live [Technodub Seance]
bekø - live [Technodub Seance]
HUN
Anton Kubikov júniusi Lost Minute Radiozora podcast vendégszereplése kapcsán (a kétórás vinyl-only szett itt hallgatható vissza ► https://soundcloud.com/radiozora/anton-kubikov-lost-minute-radio-show-07-07062019) már belengettük az örömteli hírt, hogy augusztus 31-én - ezúttal a TECHNODUB SEANCE csapatával kiegészülve - vendégül is látjuk a LÄRM falai között.
Régi nagy favoritunk, egyben a SCSI-9 és PRO-TEZ Records társalapítója a hivatalos biográfia szerint éppen kerek 25 éves zenei karrierrel a háta mögött látogat Budapestre.

ENG
Moscow artist Anton Kubikov started career in 1994. His music had over 70 releases on vinyl labels such as Kompakt, Force Tracks, Trapez, Salo, MAYAK, Pro-tez, Traum and Freizeitglauben with project Scsi-9 and under his name.
Born in Moscow, DJ and producer, co-owner of Pro–tez record label Anton Kubikov is one of the key figures of the Russian electronic music scene.
His wide musical range extends from dub to techno and accompanied by a unique selection of the material, which can be heard on his many podcasts and can be seen on the shelves at his own shop Randomart in Prague.
Under his own name, Anton wrote ambient, dub techno and house music, which can be heard on such labels as Kompakt, his own Pro–tez, MAYAK, Elusive, etc.
Juras Lietus alter ego was created as a full analog modular live concept project that represents Anton's fascination with techno and cold electronics.
As a well known SCSI-9 outfit Anton and Maxim Milyutenko have released over 50 records and 4 full Length albums and became a mainstay at Kompakt Recordings family. Pro–Tez records was created in 2005 together with Ed Vertov and Maxim Milyutenko. It became one of the first Russian vinyl record labels that gave a serious jump start to many young electronic musicians from ex-Soviet Union and became part of Kompkat Label distribution family.
Anton also participated in the broadcast of the first Moscow's FM radio station called Substation from 1995 – 2001. These first broadcast had an immense influence on the development of modern Russian music culture and helped shape the tastes of many techno enthusiasts.
LISTEN​
https://soundcloud.com/anton-kubikov
https://soundcloud.com/peterbernath
https://soundcloud.com/beko_dub
https://soundcloud.com/dj-naga-1
https://soundcloud.com/zol1978
IN
2300_0100 1500 HUF
0100_____ 2000 HUF