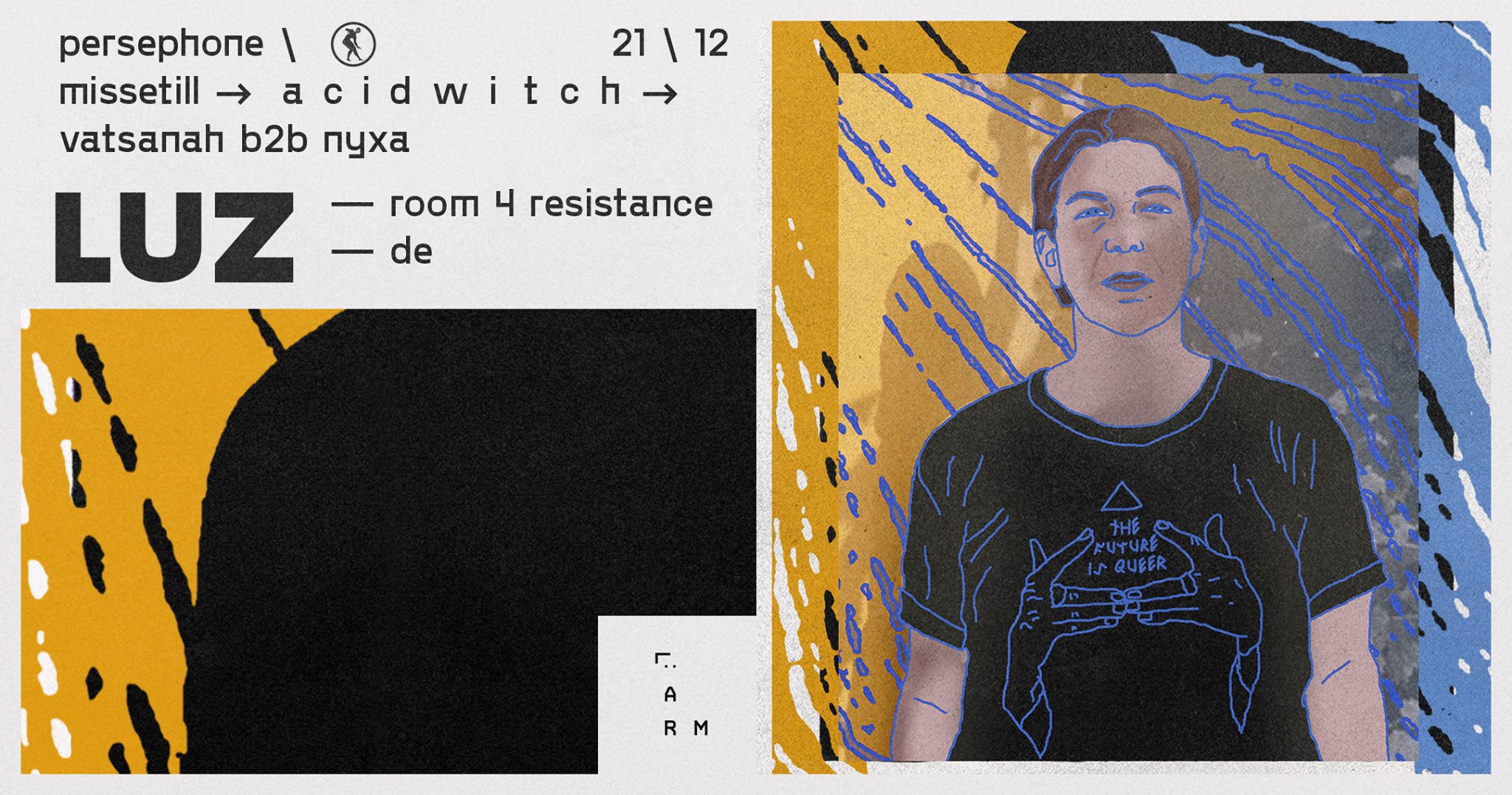 Missetill 
A C I D W I T C H
Luz - dj (Room 4 Resistance)
Vatsanah b2b NYXA (Éclipse totale)
Persephone is a new dance party by OMOH co-founder Alexandr and seasoned disc jockey Klayman, showcasing a diverse musical style ranging from underground house, classic disco to groovy techno, focusing on female, queer, trans folks, people of color, underrepresented communities and their allies.

ARTISTS
LUZ is a resident DJ and founder of Room 4 Resistance*, a Berlin-based queer femme forward collective. Luz has collected records since early childhood and started Dj-ing in 2012 with a focus on building narratives through music across genres such as Detroit techno and electro, UK Bass and techno, Deep techno, experimental, leftfield and more in between. She has performed at countless international venues, highlights include Panorama Bar, ://about-blank and Tresor (Berlin), De School (Amsterdam), Et Andet Sted (Copenhagen), Industry Brunch (Detroit) & La Station Gare Des mines (Paris) and finally coming to Budapest to play a 2 hours set.

A C I D W I T C H is a feminist DJ crew. The High Witches are Yinna and Alexandr who are about to unleash a series of seances with lots of acid, house / techno and all kinds of outsider electronic music.

VATSANAH is a Budapest based contemporary artist with Lao origins. She's well known for her cohesive collage of several styles from dubtechno till experimental sounds. Her organic sets are made up with tools and atmospheres, always seeking a kind of pulsing, vibrant tribal percussion.

NYXA has been working in the electronic music scene for several years, now running the series Éclipse totale. Inspired by a wide range of genres and with classical background, the German-born is seeking for pure, deep sounds, walking on the edge between the unsettling effect of machine tones and the comforting dark.

MISSETILL is an up-and-coming DJ talent making her LARM debut. She is playing fresh, hybrid sounds of house, techno and dark disco.

IN
2000 HUF

RA
https://www.residentadvisor.net/events/1192073

LISTEN
https://soundcloud.com/r4r_luz
https://soundcloud.com/persephone.party
https://soundcloud.com/vatsanah/
https://soundcloud.com/nyx_a
https://soundcloud.com/missetill

*R4R runs parties, hosts radio shows and curates panels to promote women, gender queers, non-binaries, trans, black and POC artists, to explore the political dimensions of the dance floor and to create bridges between different communities.