Dear dancers, our gates are closed until further notice due to the current health situation.
Please stay home, take care and we hopefully see you sooner than later. <3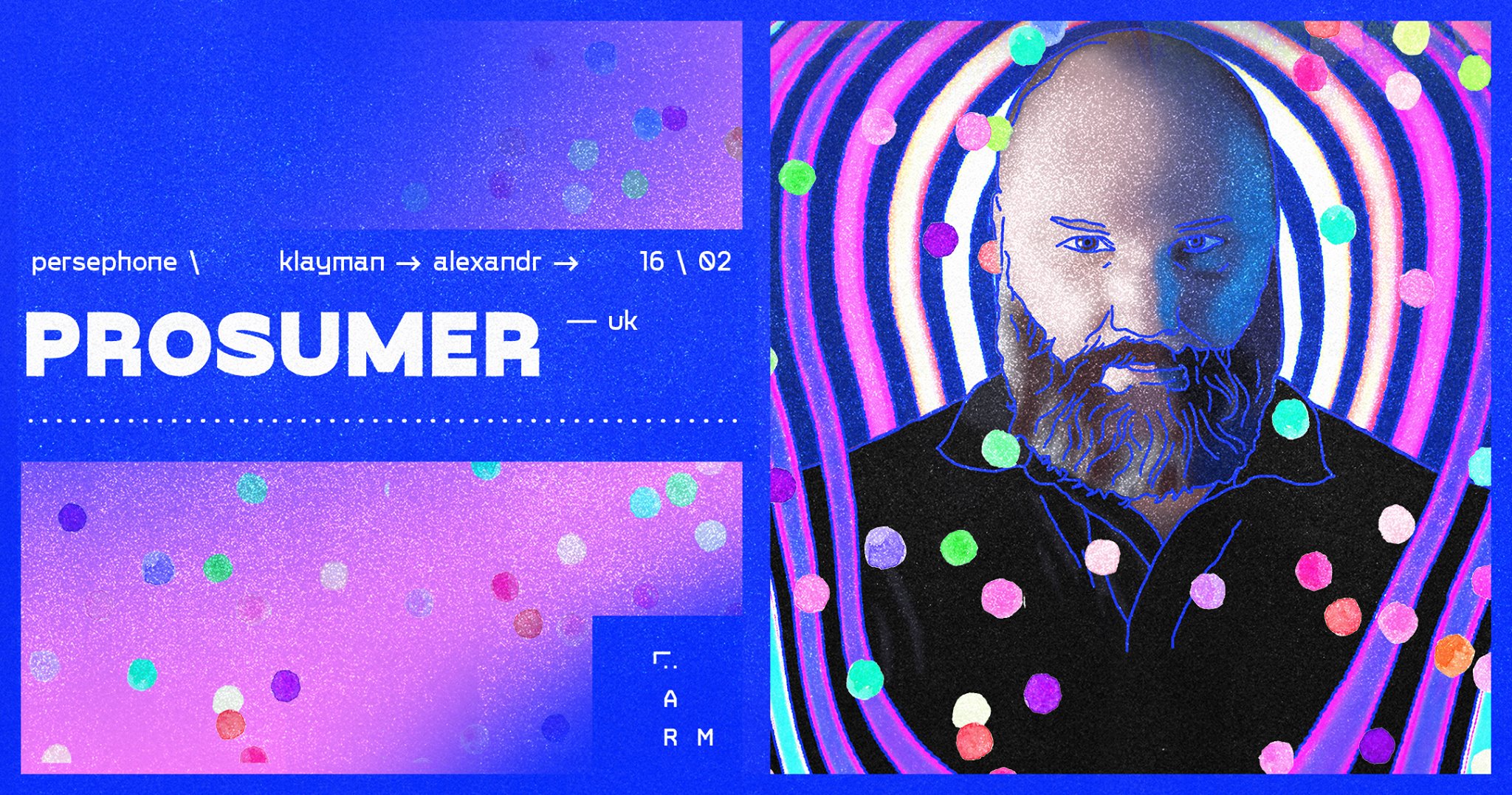 Persephone is a new dance party by OMOH co-founder Alexandr and seasoned disc jockey Klayman, showcasing a diverse musical style ranging from underground house, classic disco to groovy techno, focusing on female, queer, trans folks, people of color, underrepresented communities and their allies.
PROSUMER "The craze about the music..." ...the man called Prosumer is besotted with it. Since Achim Brandenburg heartily grabbed the microphone under this moniker in 2005 for Frankfurt's then undisputed Label Playhouse, he showed that lasciviousness, a fever for Chicago's Jack flavour and consciousness of tradition aren't necessarily bound to a time and a place. Vision, passion and knowledge make Prosumer a guardian of house music history and one of the formative artists, influential DJs and important producers of our days. While deriving his name from Alvin Toffler's techno sci-fi-bible The Third Wave (producing and consuming at the same time), Prosumer lives up to his name. With more than a decade of Hard-Wax-Record-Store-enculturation on the clock (first in Saarbrucken, then Berlin), he spent countless nights in clubs, days looking for music and years refining his art and becoming in line with the "big three". This is not a reference to Detroit's car companies, but the city's musical heritage that – together with the Big Apple and the Windy City – laid the foundation for techno and house. Prosumer oscillates between these poles. That holds true for his productions, which are affected by references and historical vertexes, but never feel to be out of time or place. An album with Murat Tepeli and collaborations with Tama Sumo expanded his discography for labels like the aforementioned Playhouse, Running Back or Swayzak's 240 Volts. On the other hand – and that might be far more important – this is exemplary for his DJ work since the mid-nineties. Prosumer connects the tracks and songs of this music's golden age with the worthwhile pieces and developments of today. Accordingly to that special feeling which is so hard to couch, he gets engaged in it from tip to toe – and so does his audience. Proved by his mission as one of the residents in Berlin's influential club institution, on his official mix CD for that place that describes his spectrum of sound perfectly and by this certain magic that travels with and in him everywhere. "Through his body and through his veins..."
COST
Pre-sale: 5 EUR
RA https://www.residentadvisor.net/events/1212835
DJ MIXES
https://www.nts.live/shows/prosumer
https://www.mixcloud.com/discover/prosumer/
https://soundcloud.com/persephone.party
https://soundcloud.com/klayman
https://soundcloud.com/lxndrvn